Stockton Arena Information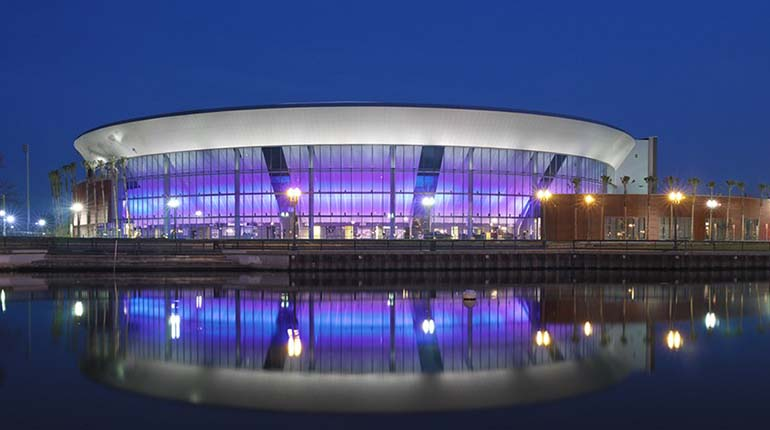 The Stockton Arena is part of Stockton Live a set of five venues that work together to promote the heart of live performance and sporting entertainment for the city. The arena is located in the California Central Valley between Sacramento and Fresno and is considered part of the downtown waterfront redevelopment program including the University Plaza Waterfront Hotel which offers room and condominiums as well as 45,000 square feet of retail space. Everything about Stockton Arena has been designed to allow event hosts and big-name teams to host world-class entertainment, heart-pounding games, and some of the best sports entertainment from coast to coast.
The Venue, since it's opening day, has hosted big-name events including the 2008 ECHL All-Star Game, several WWE house shows for both Smackdown/ECW and Raw, and the July 26, 2008, EliteXC: Unfinished Business MMA event. The California Cougars' first league championship win, on March 15, 2009, was also played in the Stockton Arena as the 2008-2009 PASL-Pro North American Champions. The arena also hosted the "Stockton Showcase" on December 9, 2009, where 8,704 fans, the largest to ever see a Pacific Tigers basketball game, watched the matchup between the Pacific Tigers and the California Golden Bears. On June 19, 2014, the San Jose Sharks announced that the arena would host a split-squad exhibition game featuring the Sharks and Vancouver Canucks later that year on September 23. This was followed when Stockton Arena hosted Arena Bowl XXVIII in 2015 where the Jacksonville Sharks and the San Jose SaberCats played, with the SaberCats winning their final game.
The Stockton Arena also features some of the best amenities and extras of all arenas in the area including customizable configurations allowing anywhere from 8,600 seats to 12,000, 24 luxury suites, the famous Record Press Club level with 344 club seats. The venue also offers full rigging and stage equipment offering the best experience for concert-goers as well as four-sided Daktronics video displays and scoreboards so you can keep up with the sports action from any seat in the house. The venue's distributed house sound system also offers crisp and clear sound whether you're upfront and personal or back in the bleachers as well as an Ample backstage that draws in the biggest musical talent around.
For many return visitors, The Stockton Arena has become the main event for their trips out to the beautiful city. So don't let your visit to California pass you by without visiting Stockton Arena. You can order your tickets through this website.
See the below pages for further information on the Stockton Arena:
Stockton Arena Parking:
Read about parking options and rules at the Stockton Arena.
Ticket Policies:
Read about the industry leading ticket guarantee and ticket authenticity policies when purchasing from tickets via this website.
Stockton Arena Seating Chart:
View the Stockton Arena seating chart and read information on the various seating options.